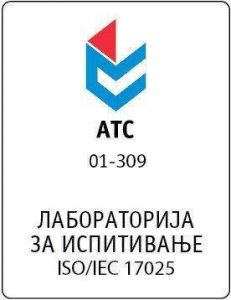 The main activity of the laboratory for geo-mechanics is testing the physical and mechanical characteristics of the soil and rocks according to the SRPS standards for the purpose of designing, construction and exploitation (all forms of exploitation), in construction, physical-mechanical characterization of construction stone, depositing of tailings and ash, reclamation and landscaping of the degraded area, analysis and remediation of the terrain instabilities etc.
The laboratory conducts: • Identifi cation classifi cation testing (moisture content determination, mass volume with pores, mass volume without pores, granulometric composition, consistency); •Testing of resistance properties (test of direct shearing); •Testing of deformation properties (oedometer test); •Testing of compaction (Proctor' test); • Bearing testing (CBR test, determination of a single-axis pressure solidity); •Testing of permeability (with a constant and descending pressure); • Testing of solidity, elastic and deformation rock qualities; • Testing of resistance to cutting during coal excavation; • Testing of how crushable the coal is.
As part of broader research, development, innovative and designing activities of the Mining Institute, the Laboratory for geo-mechanics participates in the creation and technical control of projects for engineering-geological explorations, exploration drilling, engineering-geological terrain mapping, creation of maps and profi les for geostatic analysis and calculations of drops and slopes, remediation of landslides, dam and tailings and ash depot construction, load bearing and soil settling calculations for construction objects, geostatic calculations for designing of open pits, chutes, underground rooms and tunnels, construction and technical control of geo-technical papers for the purpose of facility construction, geo-technical monitoring etc.